FOSDEM celebrated its 20 years and I'm glad that we were able to contribute with a great and exciting announcement: PENPOT is happening!
That's right, on the 0202 2020 at 13h (duh!) I delivered a 20-min pitch on everything PENPOT (Formerly called "UXBOX"). The pain that exists among multidisciplinary teams in product development, the problematic status quo, the need for open standards, open source and a new inclusive approach for all relevant stakeholders and how we have secured funding and commitment to deliver something great by the end of 2020. We want to do this with the community in mind, it's not by chance that we chose FOSDEM to make this announcement. We want to make sure we do open source development the right way, actively engaging with the open source design community to make sure we solve real problems and bring innovation where it really makes a difference.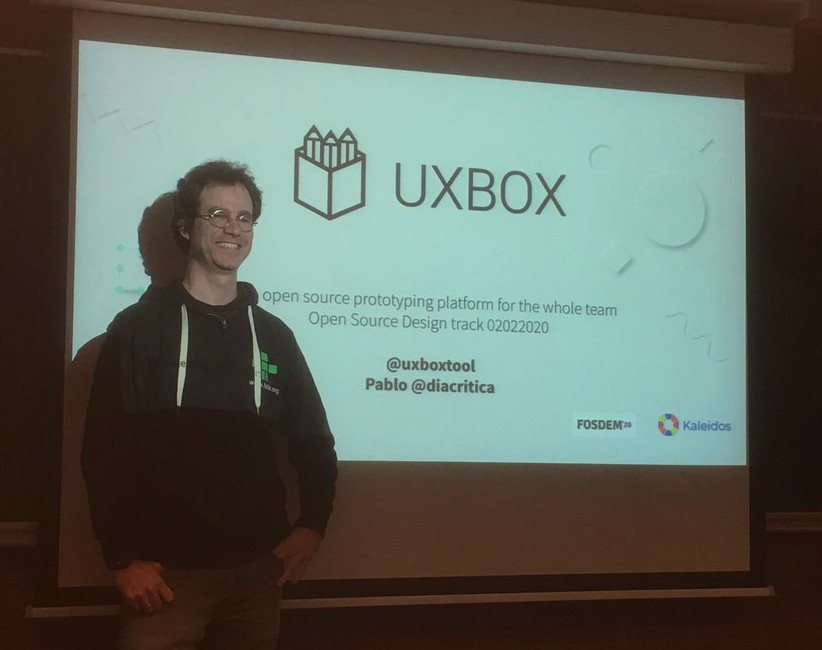 If you missed the talk, you can watch it here. There's also the 2-min demo and some interesting links.
Also, you can follow us on GitHub, Twitter or Instagram. We received a lot of positive feedback during and post the presentation at FOSDEM. Thanks for supporting PENPOT, this is going to be a great journey!
Open Source Design and much more…
FOSDEM is such a great event. I think my first year was 2005 or so and since then I've always tried to come back every year. Every FOSDEM is a bit different, sometimes it's a 2-day hackathon for me, sometimes is wonderfully inspiring, sometimes is all about meeting people and very often it's plain and simple battery charging. This year it was a bit of everything.
I particularly enjoyed a few talks on Saturday, "Python for Godot", "How to write a scikit-learn compatible estimation/transformer" and "Blender, Coming of Age".
On Sunday I attended the Open Source Design track. A talk I appreciated very much was about the Open Source Design Movement, by Peace Ojemeh, covering the challenges and limitations of design contributions from Africa.
Another very interesting talk was by Ecaterina Moraru about UI/UX Tips & Tricks for developers.
Last, but not least, I also had the chance to meet our friends at Mattermost and our partners in crime in PENPOT, Monogramm. Thanks for coming, Mathieu!
Looking forward to next FOSDEM!