About Kaleidos
We defend and believe in open-source and proof of this is that our products reflect that. We are laser-focused on Taiga and Penpot, two platforms aimed at making workflows easier for tech development teams.
We've been in the game for over 10 years now, and we're convinced that technology isn't neutral. That's why we like to shake things up and go against the toxic status quo.
If you want to get a better feel for our culture and values, check out our Libro blanco (in Spanish). Just a heads up though - we need to update and translate it but it'll still give you a good idea of who we are and what we stand for.
👀 What are we looking for?
We are seeking a professional who will take care of technical support for our Penpot community. This is an exciting new opportunity within Kaleidos. Previously, the support responsibilities were handled by the team on a rotational basis, but we recognize the need for dedicated attention and time to ensure excellent support. That's why we are seeking an individual who can fully commit to these tasks.
This position will have a significant impact on Kaleidos' culture, as you will be responsible for establishing the foundation of community support for Penpot.
Imagine this role as a blank canvas brimming with possibilities, where you have the freedom to define the boundaries. It's possible that so many needs will arise that you might be the first person on a brand-new team, and you'll have the opportunity to help shape it.
🎯 What's the challenge?
Working with a rapidly growing open-source community of which you will be a part. You will have the strategic guidance to decide on our focus areas because you will understand the community inside out. You will provide support through various channels and guide potential contributors. You will be one of the most well-known faces of Penpot in the community.
🪐 Who do we want you to be?
We believe that education can be acquired in many ways, not just through a degree. That's why we don't require specific formal education, but we do expect you to have experience working as a technical supporter specialist for a software tool.
However, you need to have:
At least 3 years of experience providing remote support to resolve technical and user-related issues, tickets, and requests.

Experience testing and troubleshooting community-reported incidents and creating follow-up plans and message traceability.

Knowledge of web programming or system administration (it would be awesome if you have both).

Experience working in agile environments and with self-managed teams.

Strong written and verbal communication skills, with the ability to explain technical concepts to a diverse audience.

High level of spoken and written English. We need you to be able to read and write technical documentation and speak fluently and accurately.

Some knowledge of functional Spanish is required.

Willingness to be hands-on to explore new ways of doing things.
We'd be thrilled (and give you a round of applause 👏) if you:
Have been part of an open-source community, even in a different role.

Have general knowledge of graphic design.
🫂 Who will you work with?
We're a pretty swell bunch. Take a look at all the people working at Kaleidos here, but specifically in the Penpot team and project, you will be working with: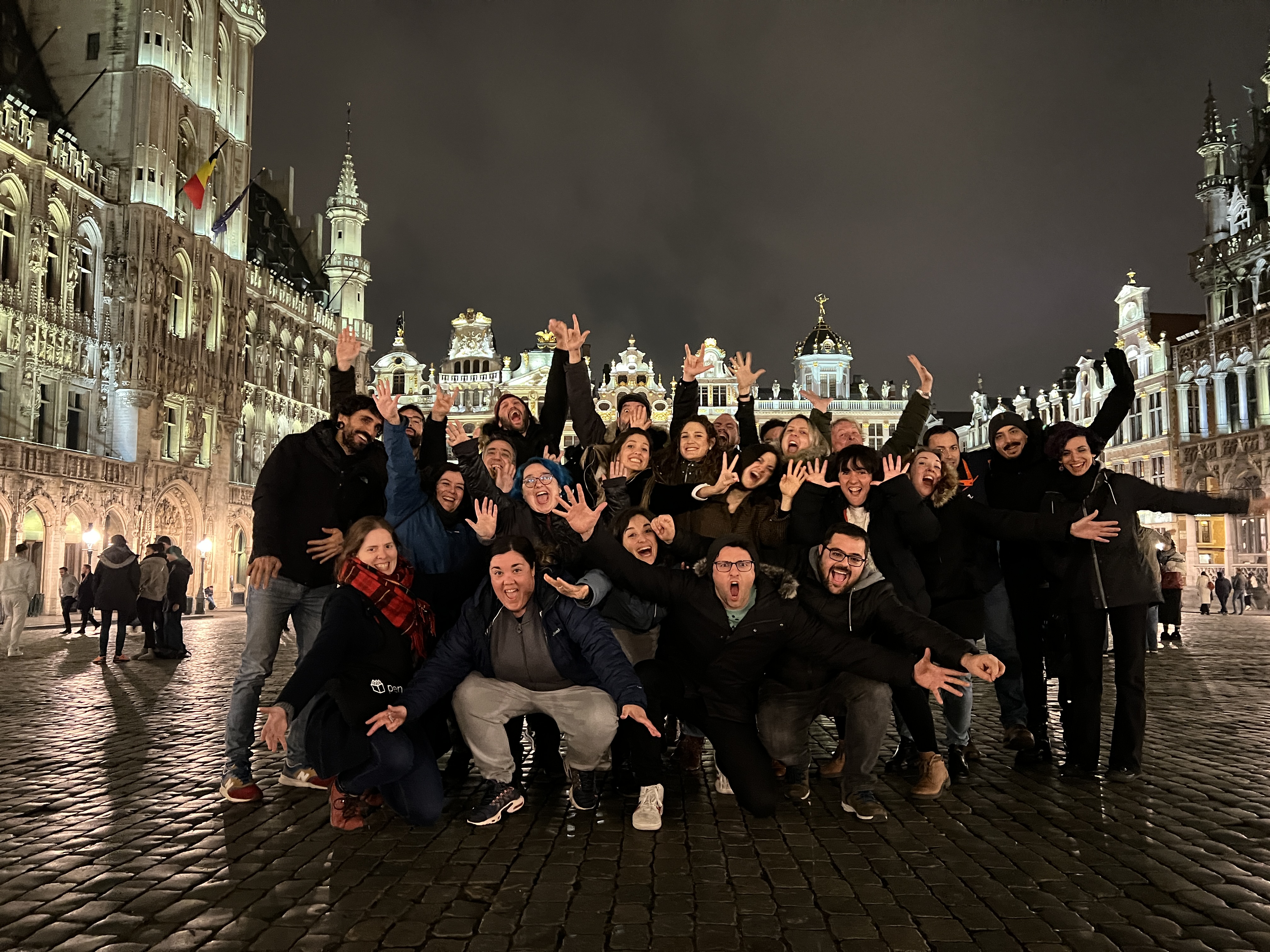 🙌 What do we offer?
💰 Salary: 42-52k €.
📜 Permanent contract. We're looking for someone to stay with us for a long time!
⏰ Flexible schedule. Even better! We all work from 10am-2pm CET. You can work the rest of your hours whenever you want. Whether you're an early bird or a night owl, you'll be in good company!
🌍 100% remote position. We maintain an office in Madrid (Spain), however, attendance at this location is discretionary. You are welcome to work remotely from any location with a reliable internet connection, provided that we share a time zone (UTC+0, UTC+1, or UTC+2) or you may choose to come to the office as often as you want.
🏝 23 days of paid leave, plus December 24th and 31st, and the possibility to ask for extra non-paid leave days. We're super flexible with your dates, you just need to make sure it's fine with your team.
📚 Continuous learning with internal and external training, conferences, and events (as a general rule we usually cover 100% of the cost). You're encouraged to experiment with new best practices!
🇺🇸 English lessons on the house: classes paid for by the company as part of your work schedule.
🤩 2 PIWEEKs per year! A PIWEEK is a freeform week-long hackathon where you pause your day-to-day work and focus, either alone or in a team, on a cool project! Penpot & Taiga were born in past PIWEEKs!
❤️ Alan's health insurance through flexible compensation (coverage only in Spain).
🔝 An environment where your opinion matters. We have a culture of a consensus-driven decision-making process. You'll quickly find yourself being involved in all things Kaleidos.
🤝 Self-organized teams: We believe that providing autonomy and independence is key for personal and collective accountability. Teams at Kaleidos operate internally with very little hierarchy and enjoy the freedom to better organize themselves.
🏹 Monthly getaways for those who want to, of course, to do something fun as a group: ice skating, bowling, archery, kayaking…
➡️ What is the process like?
Send an email to marta.ardizone@kaleidos.net with the subject line "Technical Support Specialist", tell us where you saw the job offer, and don't forget to attach your CV. You will receive a response from Marta as soon as possible.
Participate in a 1.5-hour interview with Marta (our People Specialist) and another colleague from Penpot.

Attend a 2-hour technical interview.

Have a 1-hour interview with Pablo, our CEO.

Optional: meet with two people from Kaleidos for a private conversation to ask any questions you may have about the company and the position.
Feedback will be provided to you after each step of the process. Chill out, we're real people here, not some fancy bots 🤖 working round the clock!
Kaleidos is committed to equal opportunities, regardless of race, color, ancestry, religion, sex, origin, sexual orientation, age, citizenship, marital status, family or parental situation, gender identity, disability, or any other protected status. The company values your energy, skills, and desire to be part of the team above all else.