Attention all job seekers!
Before you hit that apply button, we've got a nonnegotiable requirement for this position. We're on the lookout for someone with some serious English skills at the C2 level. Yep, we're talking top-notch language proficiency here!
About Kaleidos
We defend and believe in open-source and proof of this is that our products reflect that. We are laser-focused on Taiga and Penpot, our two open-source products. One aimed at making workflows easier for tech development teams and the other one a design and prototyping platform.
We've been in the game for over 10 years now, and we're convinced that technology isn't neutral. That's why we like to shake things up and go against the toxic status quo.
If you want to get a better feel for our culture and values, check out our White Paper (in Spanish). Just a heads up though - we need to update and translate it but it'll still give you a good idea of who we are and what we stand for.
👀 What are we looking for?
Here at Kaleidos, we are on the lookout for the next kaleider who can seamlessly handle all the management tasks involved in running an office, expertly manage the administrative aspects of a product company, and bring their event organizing prowess to both internal and external gatherings. Are you up for embracing new challenges with enthusiasm? We've got the perfect opportunity for you!
Behold, a freshly minted position tailored for full-time employment. We've recently secured a fantastic office space (hurray!), and we're in the process of transforming it into a stunning and functional haven, all set for a grand opening in September. We'd love to have your input in the design process because we wanted you to be involved in the process from the beginning to feel that it's yours too.
In the past, we had a friendly company lending a hand with certain administrative tasks such as invoices and travel arrangements. However, we've now come to realize that having an in-house Office Manager would not only fulfill our current needs but also suggest new ideas and other ways of doing things.
💫 What will your work be like?
We've got an exciting glimpse of what's on your plate as our future Office Manager:
You'll be coordinating, supervising office supplies vendors, cleaning services, catering, and more.
Workspaces, meeting rooms, and common areas will be spick and span under your watchful eye.
Invoices, admin tasks, payment processing you've got it all covered like a pro. Nothing slips through the cracks on your watch!
You'll handle all company travel arrangements - train or plane tickets, accommodation, transportation, and dining.
Managing product and material purchases and returns.
In charge of the inventory. Whether remote or in-person, you've got the knack for keeping tabs on everything!
New kaleiders, welcome aboard! You'll be assisting with material and shipments during the new employee's onboarding process.
Managing training needs for kaleiders.
You'll be providing top-notch info and proposals to Cuadriga and People on office improvements, processes, and operations. Cuadriga takes care of banking and budgeting, and People is our go-to specialist for all things people-related. However, Kaleidos is a flat organization, where all the kaleiders are involved in the decision-making process. You'll also be part of that!
Events, selection processes, workload management, you've got it all in the bag.
🎯 What's the challenge?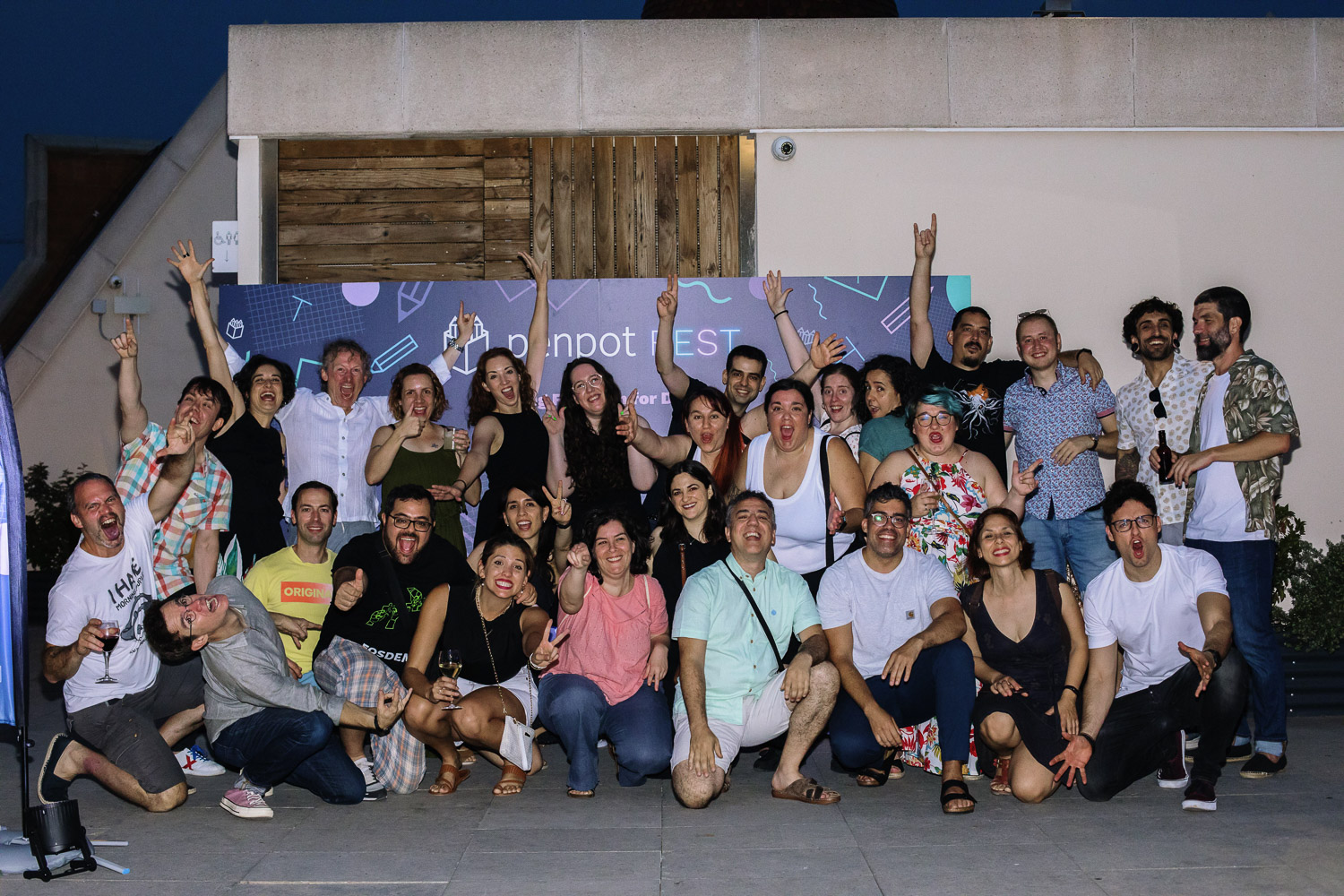 In Barcelona, attending the PenpotFest in 2023
We'd love for you to consider taking on all the "nice to have" tasks in the future! Don't worry if you don't have experience with everything; we just hope you're open to learning and embracing more responsibilities. We'll be more than happy to support you every step of the way!
🪐 What do we expect from you?
At Kaleidos, we believe that education comes in all shapes and sizes, not just through degrees. That's why we're open-minded when it comes to educational background. What we do value, though, is your, at least, 2-year experience as an Office Manager (or in a similar role).
Keep reading to see if you fit our checklist:
A C2 level of English (seriously, we're sticklers for this one. No compromises!).
Spanish proficiency is a must. After all, we're all about effective communication!
You've got the knack for handling administrative tasks, and if you bring some financial or accounting experience to the table, we'll be doing cartwheels of joy!
Managing Occupational Risk Prevention is a breeze for you - think office inspections, medical checkups, and more. Safety first, right?
Office suites? Oh, you're practically a wizard with them!
You're a pro at clear and effective communication.
You're the expert at organizing your work with diverse teams, making it all look like a well-choreographed dance.
When things go wild and unexpected, you're the cool-headed decision-maker who saves the day!
You're the process improvement person, always finding ways to level up office efficiency.
Calling all finance whizzes, you'll be our link between teams for cost and expense projections.
Oh, and did we mention it? You've got to be a Madrid local, that's where all the action happens!
Wishlist (cue the applause! 👏)
If you've had the pleasure of being an Office Manager in a dynamic product startup or a tech-savvy company, it will be a natural and smooth fit for you and us.
Event organizing skills? That's music to our ears! We love a good party, and we bet you know how to throw one!
And hey, if you've dipped your toes in the recruitment waters of technology companies, that's a big thumbs up from us!
Data management and privacy matters - if you've tackled those challenges like a pro, consider us awestruck!
Training initiatives? You're a true learning champion! We're excited to see how you've empowered others to grow.
We use Agile to manage our workload internally and it will help you ease your start at Kaleidos.
🫂 Who will you be working with?
We're a pretty swell bunch. Take a look at all the people working at Kaleidos, but specifically, on a day-to-day basis, you'll be working with the "Community" team, including:
🙌 What do we offer?
💰 Salary: 30-35k € (gross annual salary).

📜 Permanent contract. We're looking for someone to stay with us for a long time!

⏰ Flexible hours. Even better! We all work from 10am-2pm CET. You can work the rest of your hours whenever you want. Whether you're an early bird or a night owl, you'll be in good company!

🏠💻 Hybrid position. At Kaleidos, we work 100% remotely, but we do have a rad office in Madrid that's open to everyone. So, for this gig, you get the best of both worlds. A mix of office vibes and remote awesomeness!

No one wants you to feel like a lonely echo in an empty office. We want you to vibe with other kaleiders, join events, and get your packages like a boss. But don't worry, we won't tie you down to the office all the time. You can totally organize your schedule, and fix some days for office hangouts and others for working remotely. And, of course, we expect you about being flexible when the occasion calls for your presence.

With some slick planning, you'll have a blast working remotely on those days when office glam isn't necessary. So get ready to crush it from home while still having the chance to rock it at the office! You got this!

🏝 23 days of paid leave, plus December 24th and 31st, and the possibility to ask for extra non-paid leave days. We're super flexible with your dates, you just need to make sure it's fine with your team.

📚 Continuous learning with internal and external training, conferences, and events (as a general rule we usually cover 100% of the cost). You're encouraged to experiment with new best practices!

🇺🇸 English classes on the house: classes paid for by the company as part of your work schedule. Remember, that we require a C2 level for this position, but if you want to improve some areas, at Kaleidos you'll find support to do it.

🤩 2 PIWEEKs per year! A PIWEEK is a freeform week-long hackathon where you pause your day-to-day work and focus, either alone or in a team, on a cool project!

Penpot & Taiga were born in past PIWEEKs!

❤️ Alan's health insurance through flexible compensation.

🔝 An environment where your opinion matters. We have a culture of a consensus-driven decision-making process. You'll quickly find yourself being involved in all Kaleidos' things.

🤝 Self-organized teams: we believe that providing autonomy and independence is key for personal and collective accountability. Teams at Kaleidos operate internally with very little hierarchy and enjoy the freedom to better organize themselves.

🏹 Monthly activities for those who want to, of course, to do something fun as a group: ice skating, bowling, archery, kayaking…
➡️ How does the process like?
If your heartbeat is rockin'❤️… that's a sign you're ready to roll! We're on the hunt for an Office Manager at Kaleidos, and we think you could be the one! So, whip up a snazzy cover letter and shoot it over to marta.ardizone@kaleidos.net with the subject: Office Manager.
Tell us all about yourself and why you're itching to be part of the Kaleidos crew. We're all about that shared vision, so if you're vibing with our way of seeing things, that's a major plus! And hey, we love to get pumped about awesome presentations, so show us what you got!
If your cover letter and profile give us the good feels, Marta will drop you a line for a quick 15-minute chat.
After that, we'll dive into the nitty-gritty. First up, a 1-hour 30-minute interview to get to know your professional journey and what makes you tick.
Then, a technical interview for the same amount of time. Don't worry; we're not looking for perfection, just your amazing skills.
Next stop, the big boss! You'll have a 1-hour sit-down with Pablo, our CEO.
Oh, and here's the cherry on top 🍒 (optional): you can totally have some chill closed-door meetings with two folks from Kaleidos (your pick!). Ask anything you need, 'cause these talks are all about making sure Kaleidos is the perfect match for you.
So, what are you waiting for? Drop that email, dazzle us with your brilliance, and let's make some magic happen together! 🌟
Feedback will be provided to you after each step of the process. Chill out, we're real people here, not some fancy bots 🤖 working round the clock!
---
Kaleidos is committed to equal opportunities, regardless of race, color, ancestry, religion, sex, origin, sexual orientation, age, citizenship, marital status, family or parental situation, gender identity, disability, or any other protected status. The company values your energy, skills, and desire to be part of the team above all else.