About Kaleidos
We defend and believe in open-source and proof of this is that our products reflect that. We are laser-focused on Taiga and Penpot, our two open-source products. One aimed at making workflows easier for tech development teams and the other one a design and prototyping platform.
We've been in the game for over 10 years now, and we're convinced that technology isn't neutral. That's why we like to shake things up and go against the toxic status quo.
If you want to get a better feel for our culture and values, check out our White Paper (in Spanish). Just a heads up though - we need to update and translate it but it'll still give you a good idea of who we are and what we stand for.
🎯 What's the challenge?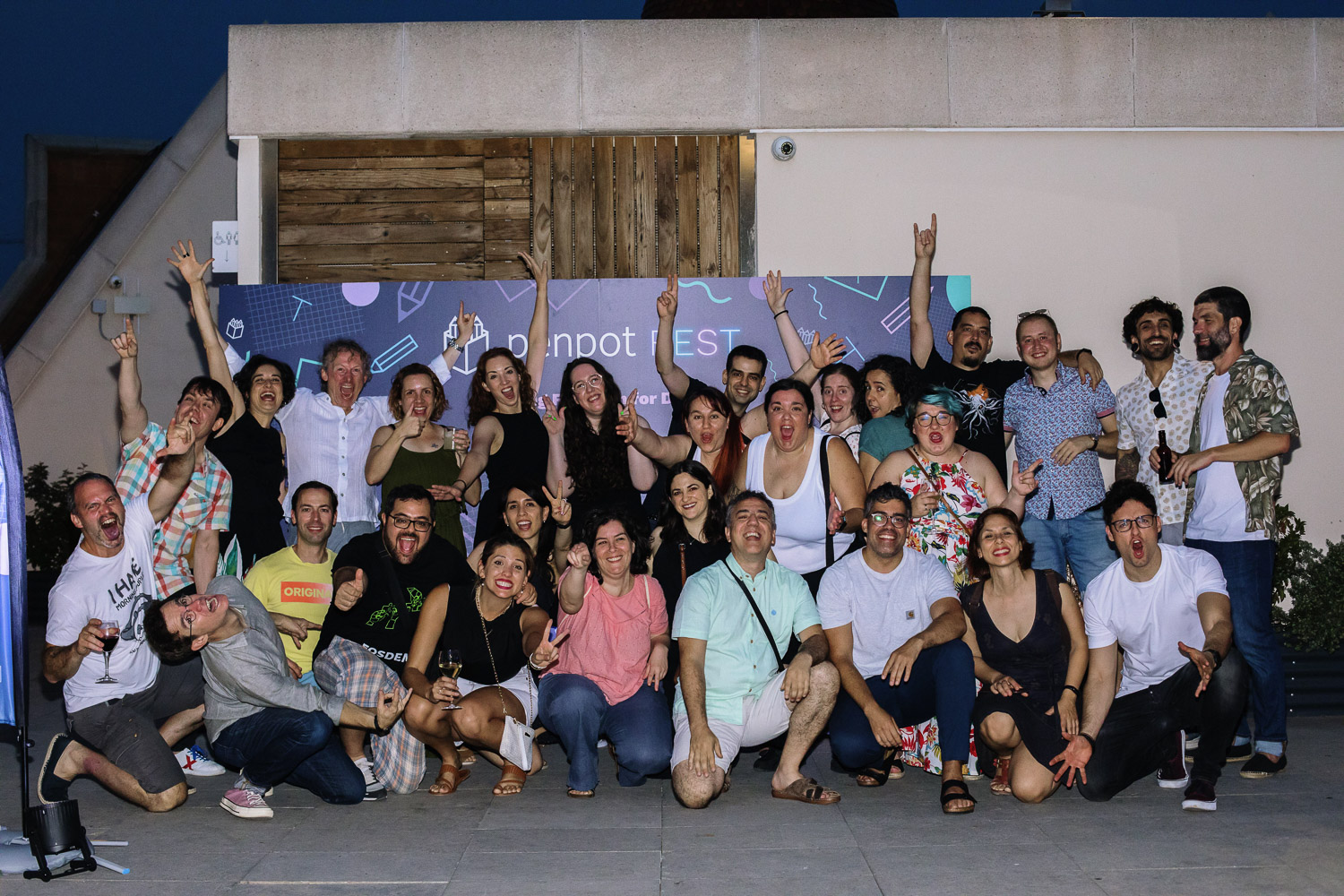 In Barcelona, attending the PenpotFest in 2023
Get ready to dive into some complex programming challenges as you embrace your journey here. Our working mode is all about thinking outside the box and unleashing your creative coding wizardry. You'll be rolling up your sleeves to tackle tricky data structures and unravel their mysteries, and to optimize your code to squeeze every last drop of machine performance.
But that's not all, there's the big challenge: working on an open-source tool designed by and for designers and developers.
And say hello to the world of functional programming. Coding with Clojure can be a fun challenge and you'll also be able to ride the waves of reactive programming excitement.
🪐 What do we need?
We believe that education can be acquired in many ways, not just through a degree. That's why we don't require specific formal education, but we do expect you to have experience on the following areas:
+3 years of experience with functional programming. Clojurescript would be awesome, but any functional language is cool for this
A solid grasp of RxJS.
Background as a frontend developer (with an emphasis on deep JS and Browser APIs).
Experience working with HTML and CSS.
Enthusiasm for crafting robust user interfaces.
Languages: high level of spoken and written English. We need you to be able to read and write technical documentation and speak fluently and accurately + some knowledge of functional Spanish (spoken and written) is required or the other way around (high level of Spanish and functional English).
We'd be thrilled (and give you a round of applause 👏) if you hold:
Familiarity and experience working with Clojure or other functional-oriented languages (Scheme, Lisp…).
Knowledge of testing in JavaScript (Jest, Cypress, etc.).
Proficiency in HTML and CSS.
Enthusiasm for exploring new programming languages and frameworks.
Prior experience or a keen interest in open-source projects.
Use of agile methodologies in a professional setting.
Track record of collaborative engagement within diverse teams (including designers, marketing professionals, backend developers, etc.).
Ability to ask the right questions for effective product development.
Understanding how JavaScript performs (knowing about V8 and SpiderMonkey is a big plus).
🫂 Who will you be working with?
We're a pretty swell bunch. Take a look at all the people working at Kaleidos, but specifically, on a day-to-day basis, you'll be working with the Penpot team, including:
🙌 What do we offer?
💰 Salary: 50-60k € (gross annual salary).

📜 Permanent contract. We're looking for someone to stay with us for the long run!

⏰ Flexible hours. Even better! We all work from 10am-2pm CET. You can work the rest of your hours whenever you want. Whether you're an early bird or a night owl, you'll be in good company!

🌍 100% remote position. We maintain an office in Madrid (Spain), however, attendance at this location is discretionary. You are welcome to work remotely from any location with a reliable internet connection, provided that we share a time zone (UTC+0, UTC+1, or UTC+2) or you may choose to come to the office as often as you want.

🏝 23 days of paid leave, plus December 24th and 31st, and the possibility to ask for extra non-paid leave days. We're super flexible with your dates, you just need to make sure it's fine with your team.

📚 Continuous learning with internal and external training, conferences, and events (as a general rule we usually cover 100% of the cost). You're encouraged to experiment with new best practices!

🇺🇸 English classes on the house: classes paid for by the company as part of your work schedule.

🤩 2 PIWEEKs per year! A PIWEEK is a freeform week-long hackathon where you pause your day-to-day work and focus, either alone or in a team, on a cool project! Penpot & Taiga were born in past PIWEEKs!

❤️ Alan's health insurance through flexible compensation (coverage only in Spain).

🔝 An environment where your opinion matters. We have a culture of a consensus-driven decision-making process. You'll quickly find yourself being involved in all Kaleidos' things.

🤝 Self-organized teams: we believe that providing autonomy and independence is key for personal and collective accountability. Teams at Kaleidos operate internally with very little hierarchy and enjoy the freedom to better organize themselves.

🏹 Monthly activities for those who want to, of course, do something fun as a group: ice skating, bowling, archery, kayaking…
➡️ What is the process like?
Send an email to marta.ardizone@kaleidos.net with the subject line "Front-end Developer", tell us where you saw the job offer, and don't forget to attach your CV. You will receive a response from Marta as soon as possible.
If you're excited to share more about your experience and why you're interested in joining Kaleidos, you can drop us a few lines in the email.
Participate in a 1.5-hour interview with Marta (our People Specialist) and another colleague from Penpot.
Attend a 2-hour technical interview.
Have a 1-hour interview with Pablo, our CEO.
Optional: meet with two people from Kaleidos for a private conversation to ask any questions you may have about the company and the position.
Feedback will be provided to you after each step of the process. Chill out, we're real people here, not some fancy bots 🤖 working round the clock!
---
Kaleidos is committed to equal opportunities, regardless of race, color, ancestry, religion, sex, origin, sexual orientation, age, citizenship, marital status, family or parental situation, gender identity, disability, or any other protected status. The company values your energy, skills, and desire to be part of the team above all else.