Last week I spoke at jDays 2015 in Gothenburg with the talk Grails and the real-time world.
I arrived on March 16th after almost missing my connection in Frankfurt (as there are no direct flights from Madrid I had my connection there). Although we landed in time I had only 50 minutes before the other flight departure. We stopped in front of the terminal more than 15 minutes after we could got off the plane. Besides that, I was seated in the row 33 of the plane so I was blocked until the whole plane got off. After that, I ran across the terminal but I finally catched the next flight to Gothenburg. For my returning flight to Madrid it was pretty easy. That time I arrived at gate A47 and my flight to Madrid was at gate A46 🙂
That same day at 18:00 we had the speakers dinner. These speakers dinners, part of most of the conferences, are a great place to talk with other speakers outside your comfort zone about many things. I started talking in a group of five and, with some beers, we introduced ourselves and also talked about the topics that we were to present the following days.
The following day, March 17th, the conference started. There were many interesting talks related to the Java ecosystem. The talks I liked the most were:
And about my session, everything was fine. There wasn't many people in the room (I guess that Grails is not a trending topic in a Java conference) but I think the attendees enjoyed the talk, specially the demos. If you are interested, the slides and the code are availble at my Slideshare and Github account.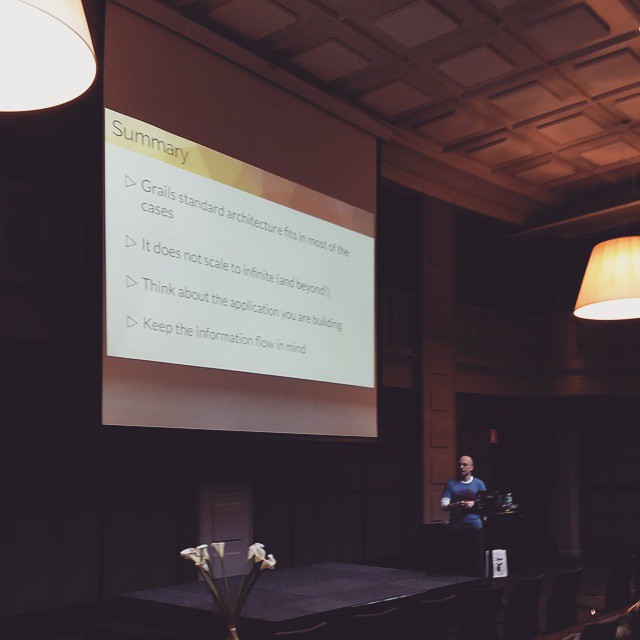 The venue of the conference was really nice and the organization was also very good. I only missed one thing: There was no closing session for the conference. After the last talks everybody pick their stuff and went home. I believe that it's important to have a formal closure for the conference. It doesn't need to take much time but I think that these last 10 or 15 minutes are very important for the conference and the attendees. Anyway, everything was great!
With this talk I have started what my Kaleidos mates have called #IvánOnTour2015. It turns out that I sent some proposals to many conferences around Europe and almost all of them have been accepted. So, for the next months I'll be on tour speaking at: Greach, ConFess, Spring IO, GeeCON and GR8Conf.
and GR8Conf.